My better half wanted to get me a 'special' Christmas present... so I told her a high-wall round receiver M91/30. The guys at J&G didn't know what a high-wall was. But I gave Bev enough instruction that she picked one out.
Can you guys guess which one it is?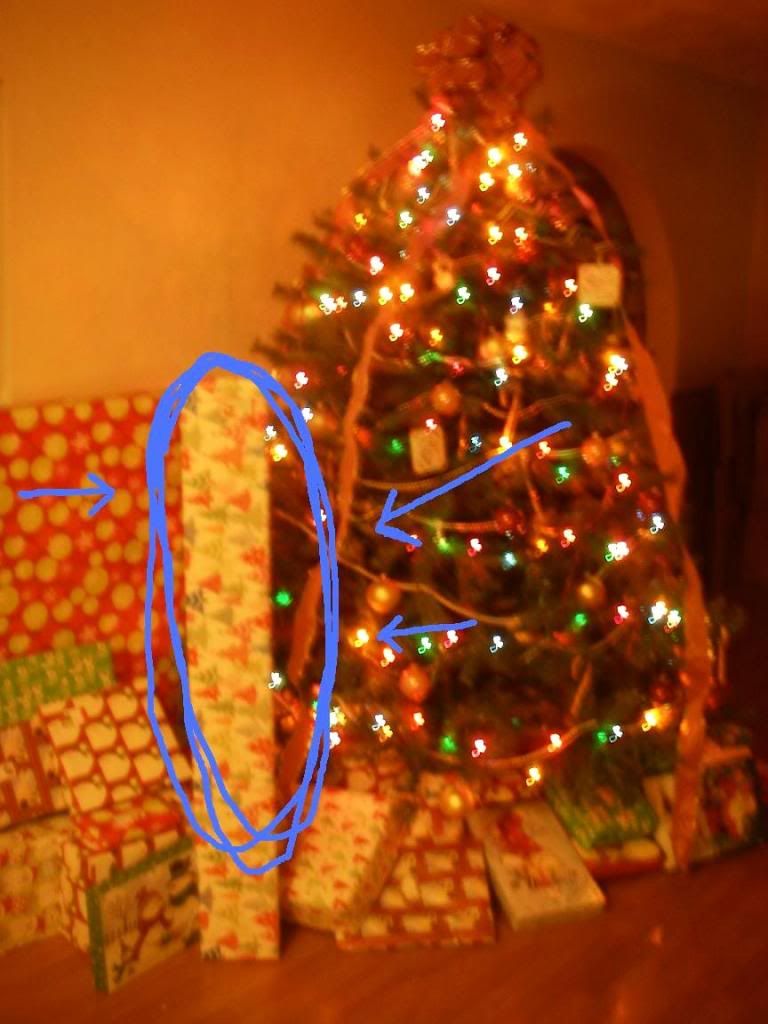 Sure enough, I opened her up and found a 1943 Izhevsk high-wall!!!
She isn't the cleanest, machining marks ALL over, and the marks aren't struck very well... But ALL my other Mosins are Hex receiver Tula's (or built off one).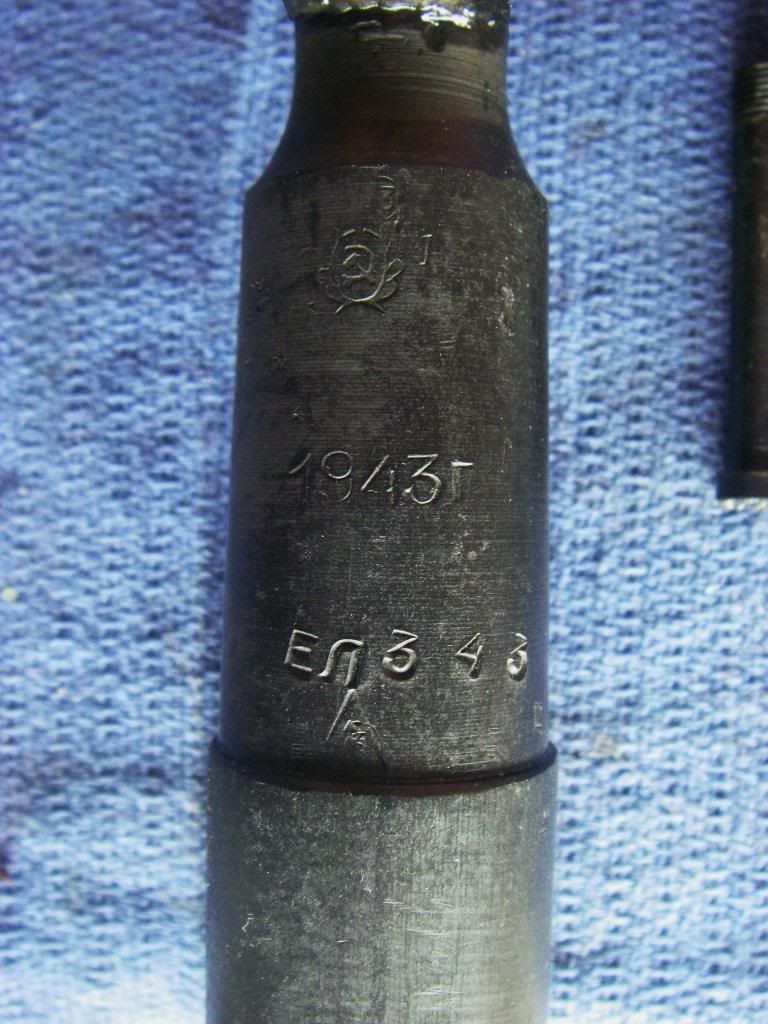 There is a ridge down the center of the receiver.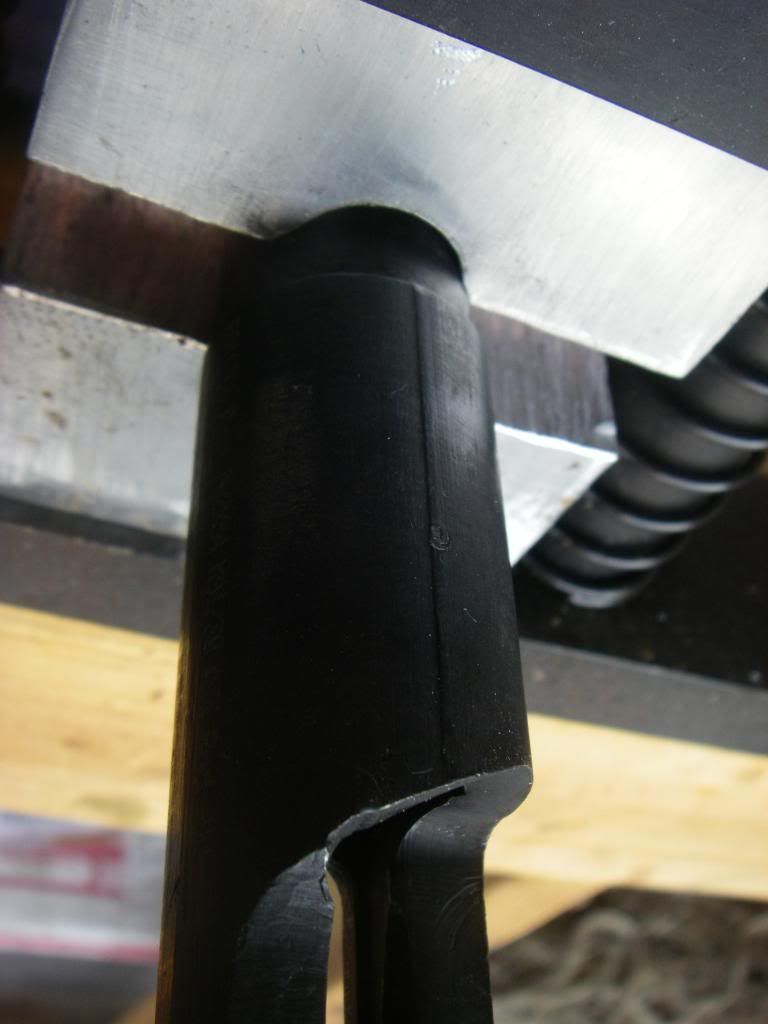 There was black paint all over the receiver and barrel.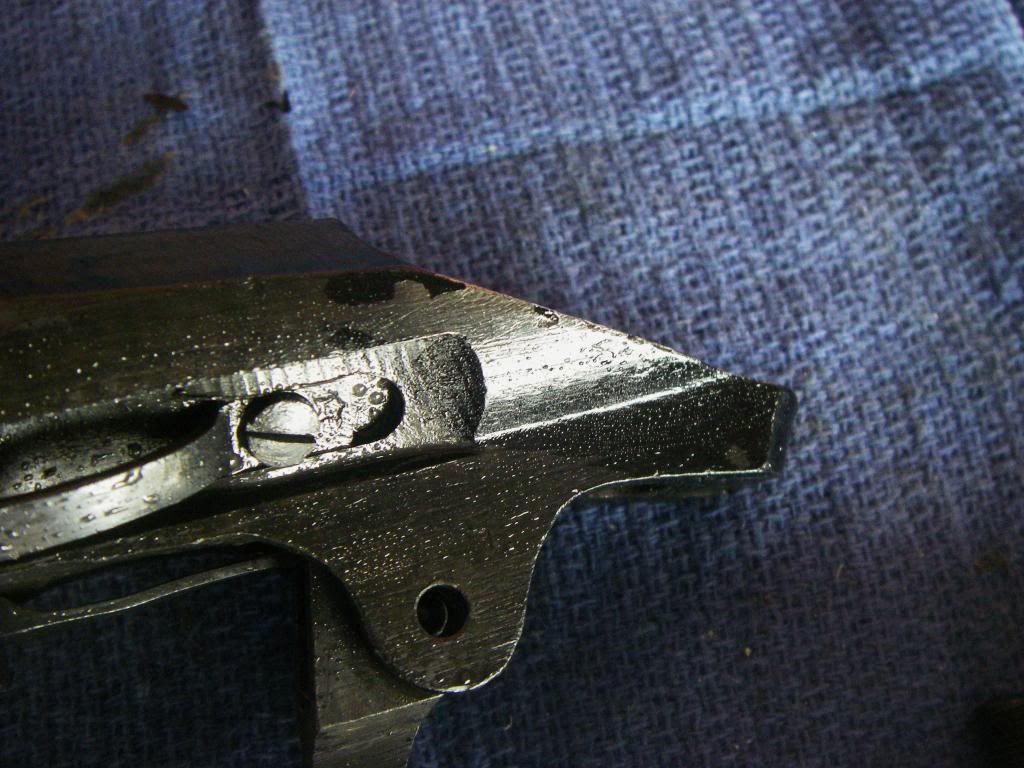 The date and arsenal were barely struck.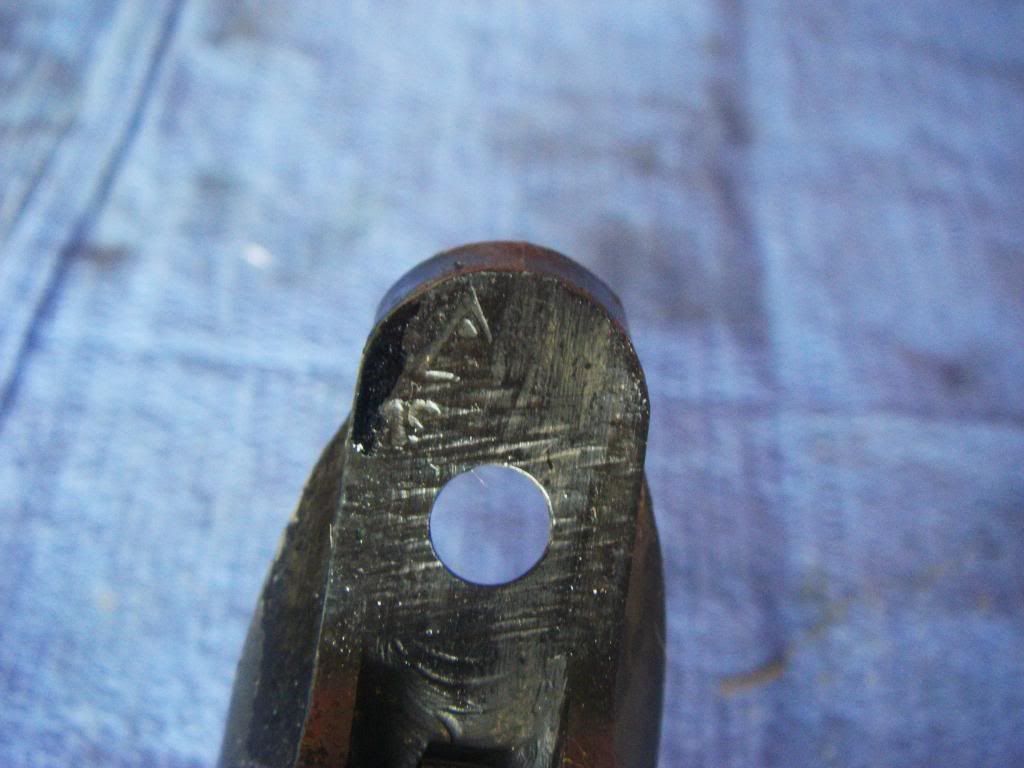 The receiver wasn't finished. The rear right side doesn't have the slant cut into it.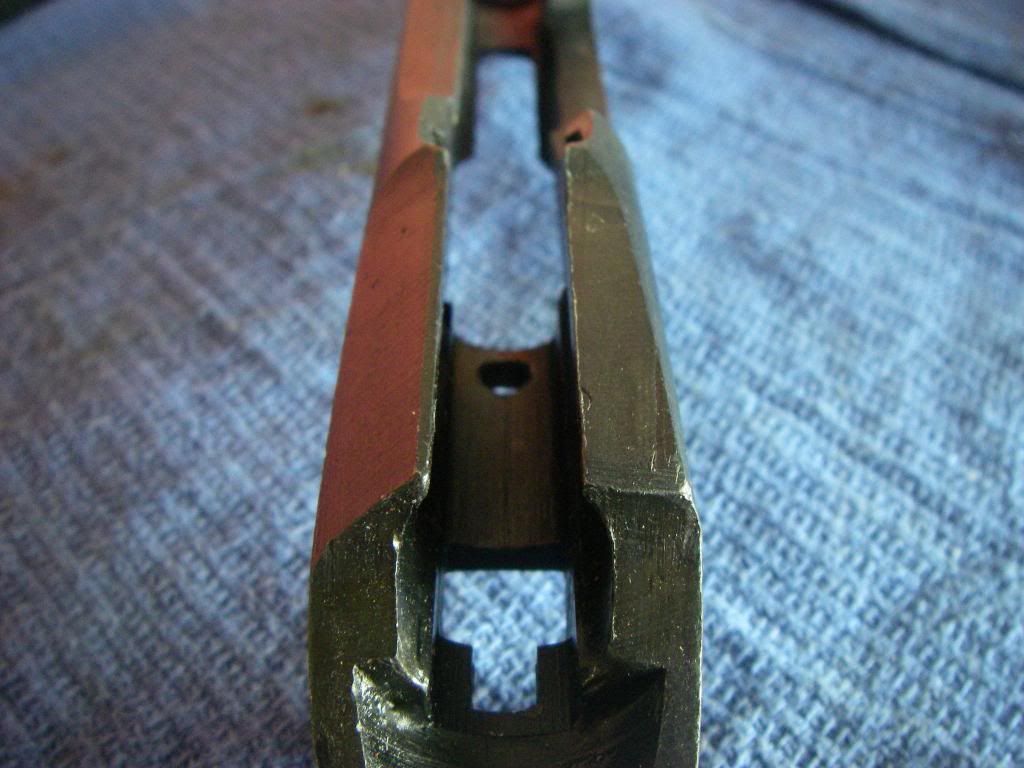 I slugged the bore... She's pretty worn. .313" from groove to groove, and .302" from land to land. The last six inches or so of her bore is larger than the rest. It was very hard to drive the slug through that portion.
Her buttplate was scrubbed (or never struck), her floorplate was lined out and electropencilled to match, her bolt just electropencilled.
Her stock is a pre-war one that is pretty clean... no repairs and the grain looks pretty. I'm going to strip it and re-finish it with pine-tar. All the hardware on it is war-time, or post war parts. The nosecap is rounded, the buttplate is postwar, the band keepers are stamped. The magazine and bolt are all typical refurbished mis-matched parts from both arsenals.
I've already got the stock I'll be putting on her... a lowel designs L96!
Here is an overall right side veiw of it.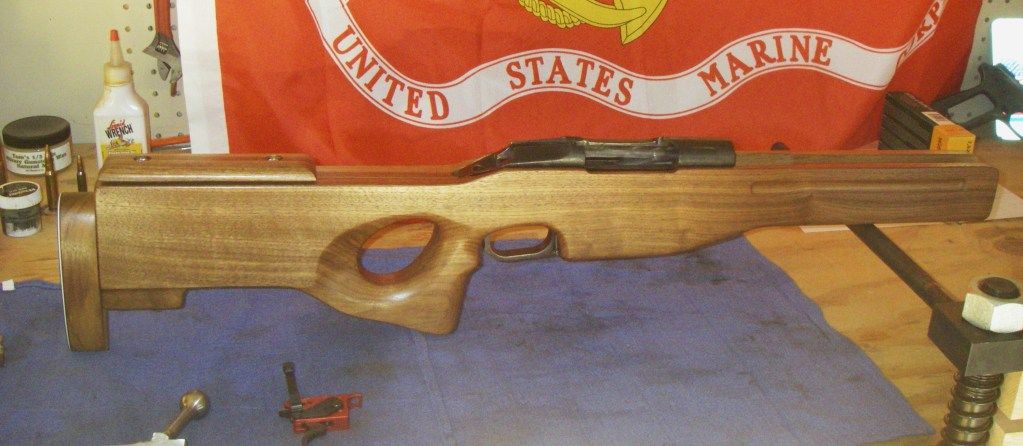 Here is the right and left side quartering veiws.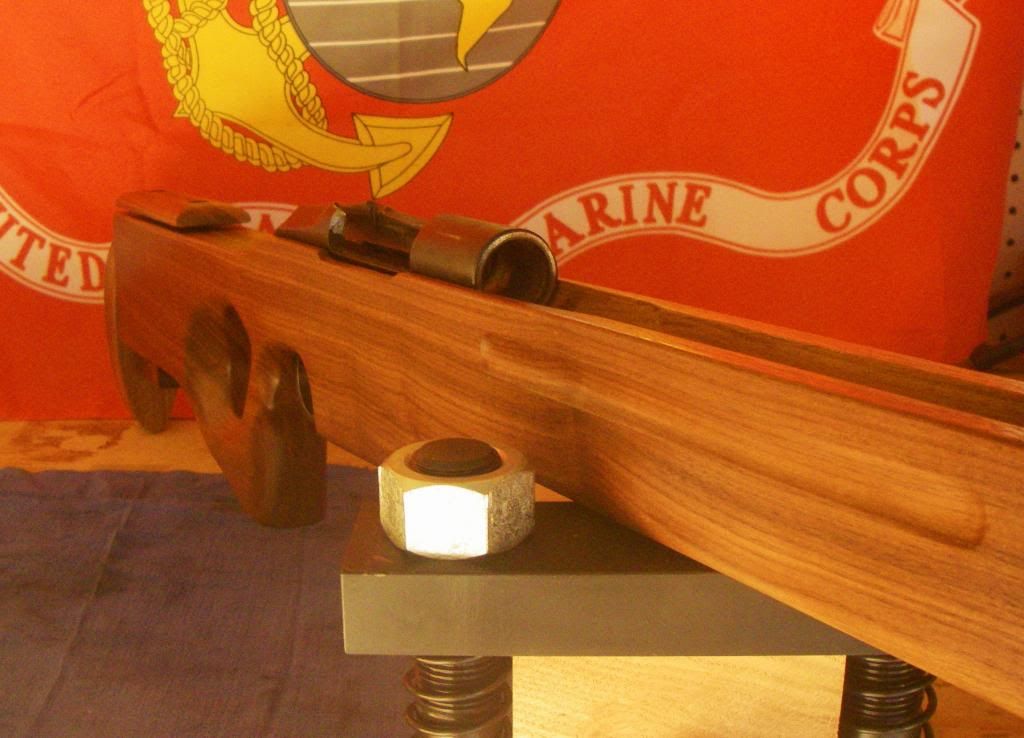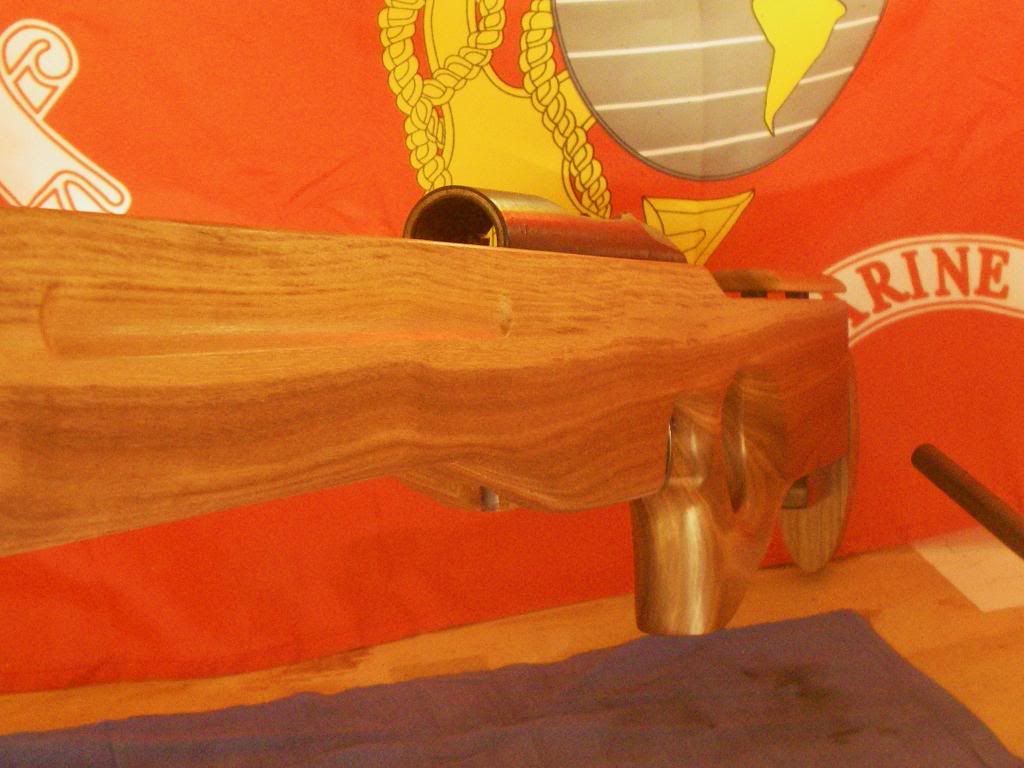 Here is the veiw from the front.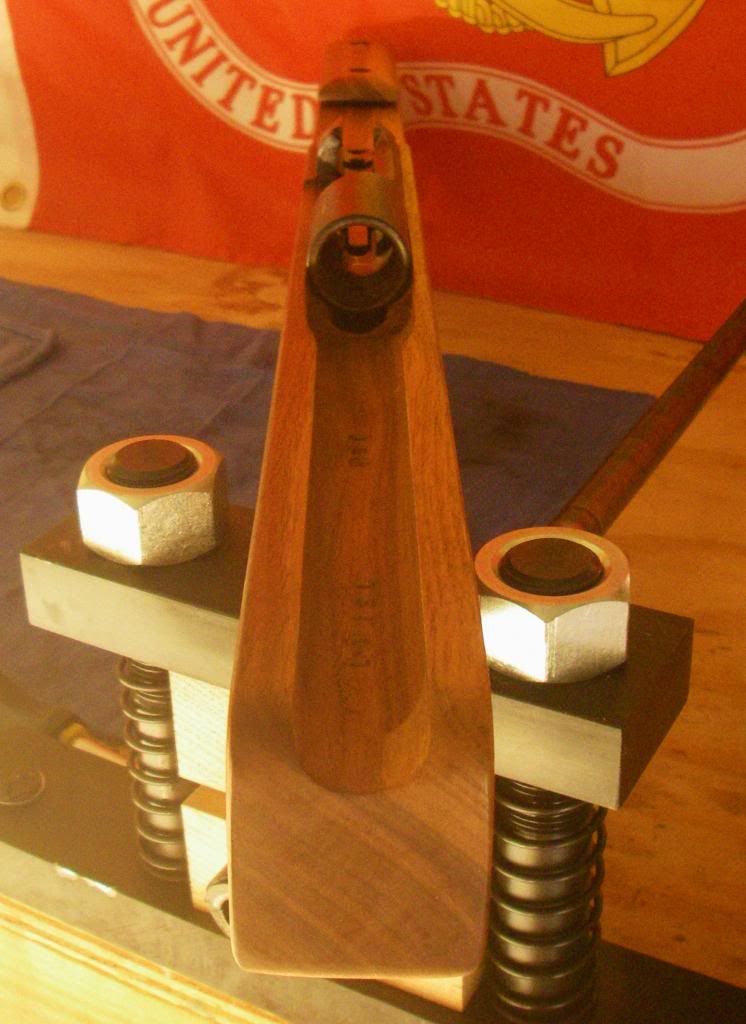 I'll mount this attachment point for the versa-pod on the front
http://www.midwayusa.com/product/515076
... c=wishList And I'll be using this versa-pod
http://www.midwayusa.com/product/787833
... c=wishList
Here is a the underside... you can still use the magazine as intended.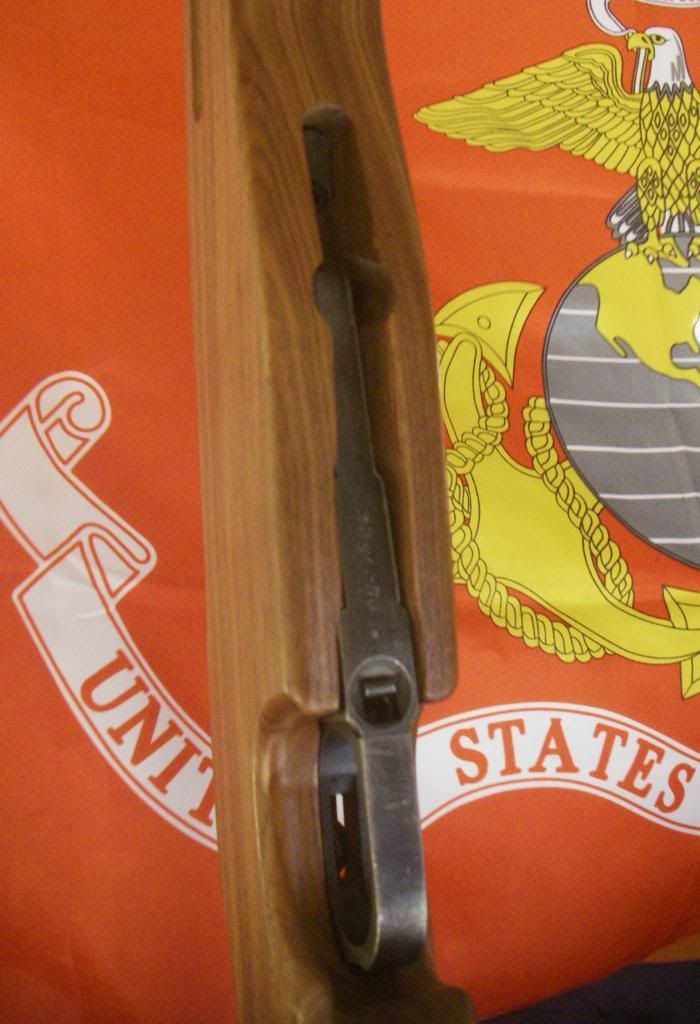 Here is a close up of the cheek peice. You can shim it to raise and lower it.
Here is the inletted portion.
It's not inletted for a Timney trigger... I think I'll try and stick with the originnal one. I ordered a Finn sear, SS firingpin spring, and slack spring from ctresser here on the forums.
https://www.crsurplusspring.com/
I can't wait to play around with this trigger! I'm thinking about doing this mod too...
http://www.gunandgame.com/forums/powder
... r-job.html
I've already got a set of RSI bedding pillars and hex action screws.
http://www.rocksolidind.com/
My plan is to close the rear bridge and move the bolt handle back. I will modify a Rem 700 LA steel 20 MOA base to mount convetionally... here is what the receiver will look like when I'm finished.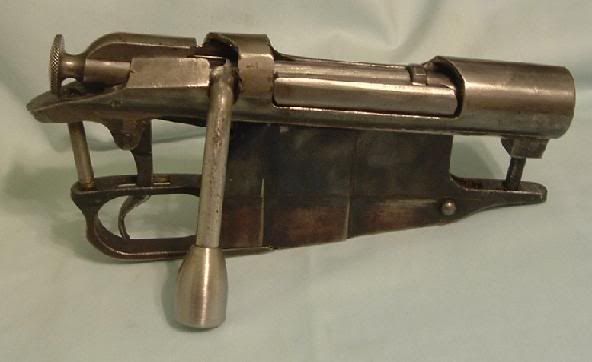 I'm planning on doing an intense re-profilling of the cocking knob... taking off the 'flange' and leaving a nice smooth radius.
I'm planning on picking up an extra, bolt head, cocking piece, firing pin, and trigger.
Now... here is what is going to make it a 1 mile Mosin.
I'm going to re-chamber it in .220 Ackley Improved...
.220 Ackley Improved on the left, .220 swift on the right.
Now, the R&D has already been done by dirtyjim (on SRF)...
The bolt head needs to be modded... here is a picture of the bolt that dirtyjim soldered a shim into.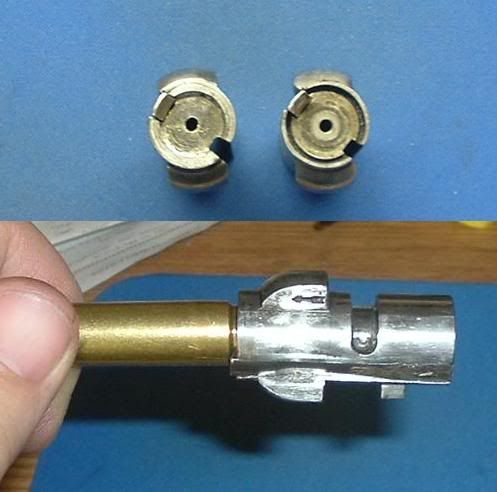 The extractor needs minimal work also. The .220 swift case head is also .473" in dia. The 7.62x54r rim dia. is .567".
The ejector needs to be modded. I'll probably cut my own in similiar profile to a bannerman ejector...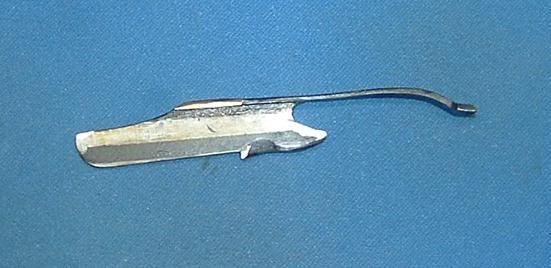 The good news is that the magazine will readily accomodate this round.
You can see that there is PLENTY of room for me to seat bullets out as long as I need too... I'm planning on shooting 80 berger VLD's or 80 gain A-MAX's... I also might experiment with some 90 grain Berger VLD's. These bullets have Secant ogives and are known for being tempermental when it comes to seating depth.
You can see at the bottom of the line-up the long, high B.C. bullets in .224".
Now I want to talk some ballistics...
I've been playing around with numbers, RPM, stability factors... etc. And I'm going to use (probably a kreiger) heavy palma contour barrel, 30", .224", with a 1-9" twist.
Here is the ONLY load I could find for a heavy bullet in .220 Ackley Improved...
http://www.reloadersnest.com/unverified
... 95&ID=4568
Of course it's the internet so take with a grain of salt... but crunching he numbers, even at 3,300 fps the bullet is still spinning at 264,000 rpm. This is borderline stability for a VLD... but if I can actually get 3,700 fps, then the bullet is spinning at 296,000 rpm. With a 30" barrel, I'll be squeezing the most velocity out of this overbore cartridge... and I'd really like to see if I can get a 90 grain VLD to shoot well out of this rifle.
The G1 B.C.'s of these bullets are...
80 grain Berger .445
80 grain A-MAX .473
90 grain Berger .551
These aren't that great... good, but not 'GREAT'.
But when we crunch the numbers, this should be one heck'va good external ballistic performer... (These were using a sight height of 2" above the centerline of the bore, 5200 ft elevation, 70 degrees fahrenheit, and 5% relative humidity)
The .220 AI with an 80 grain A-MAX @ 3700 fps using a 100 yd zero.
500 yds 4.5 MOA up
1,000 yds 15.75 MOA up
Compare this to the 7.62x51 M118LR round...
175 gain SMK @ 2650 fps using a 100 yd zero. (G1 B.C. .505)
500 yds 12.5 MOA up
1,000 yds 41.25 MOA up
AND the wind deflection on the 80 grain A-MAX is almost HALF of what the 175 grain SMK experiences!!!
Now, let's look at the 139 grain Scenar in the 6.5x284, a round that all long range rounds are compared against.
139 grain Scenar @ 2950 fps using a 100 yd zero. (G1 B.C. .578)
500 yds 7.75 MOA up
1,000 yds 23.5 MOA up
The .220 AI still has 2,000 + fps at 1,000 yards while the 6.5x284 has dropped off to 1,600 fps. The A-MAX also experiences about 80% of the wind drift that the Scenar does.
I will note that both rounds I'm comparing the .220 AI against have more energy at ALL ranges.
The reason I'm calling this the 1 mile Mosin is that I'm planning on pulling off some 1 mile shots with this rifle. 1760 yds is a mile, and just beyond the transonic range. However, .224" VLD's have shown that they CAN negotiate the transonic barrier without losng there stability. With the ballistic performance, and the 20 MOA base... I should be able to dial to a mile with about 55 MOA up from a 100 yd zero.