OK guys I've been reading up on this trying to wrap my head around the new law that kicks in in 2017. As far as I can tell here is what I've found out.
Assault Rifle Status
If you do nothing to modify your current configuration you will have to register the firearm as an Assault Rifle and pay the fees associated with said law. You will also have to register the rifle as an Assault weapon. What makes the rifle fall into the this category is any one or all of the following, this applies to Semi Automatic Center fire Rifles:
1) Adjustable stock
2) Flash Hider
3) Pistol Grip
4) Forward Grip
Stuff you cannot have also are
Thumb Hole Style stocks
Grenade Launcher
From what I'm getting from the info I've found changing these 3 items can make your AR a "Featureless" rifle and thus it will not be considered an assault rifle.
Mods that you'll need to do are:
Remove or Pin your adjustable stock:
You can replace it with a fixed type, you can also "PIN" your existing stock and make it fixed by drilling and roll pinning the stock so that it cannot be adjusted. The pins must also be installed with an epoxy to prevent removal.
Remove the "Pistol" grip.
There are some next generation stocks that use the pistol grip as a mounting point, but after looking at the designs I'm not convinced that that area of the lower is designed to handle all the stress of recoil and shouldering the firearm. This seems more concerning on poly lowers than forged to me.
Remove to replace the Flash Hider
This is probably the easiest to deal with, you can easily replace the "flash Hider" with a "Compensator" or "Muzzle Brake" either one will actually help the performance of your rifle anyway.
Doing these mods from all I've read and can decipher will allow you to keep your bullet button, and may even allow you to go back to a standard mag release. I've got to research that a little more.
Magazine capacity is 10 rounds no more, all hi cap mags must be destroyed or turned in. you can also
permanently
and I mean permanently fix these mags to 10 capacity.
Here is a flow chart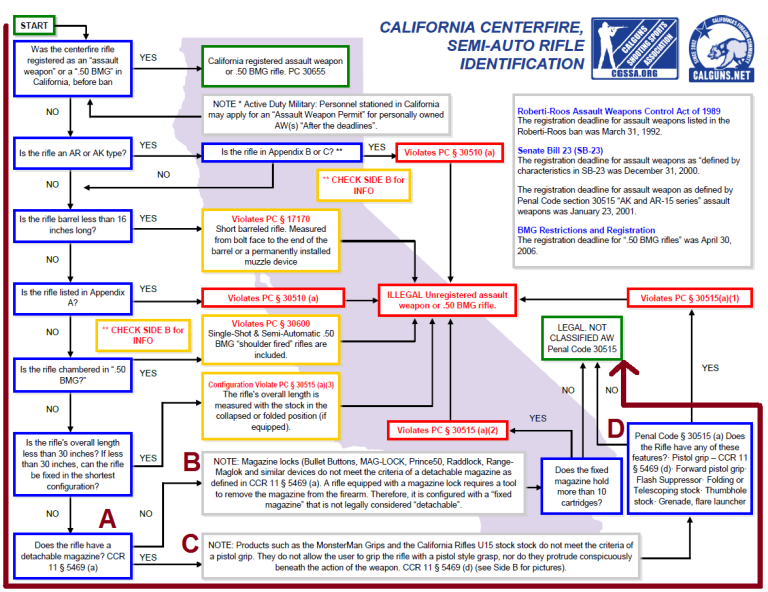 Disclaimer: this is not legal advice this is posted only for the sake of discussion and all local laws should be researched by you to make sure all stated is correct.
I'll post more info as I get it..
Thanks
Mark