I had the distinct pleasure of hunting on a buffalo ranch in Colorado this past weekend. One of my friends has been taking a buffalo there for the past 8 years, and I was able to join him this year. I used my 1932 Tula...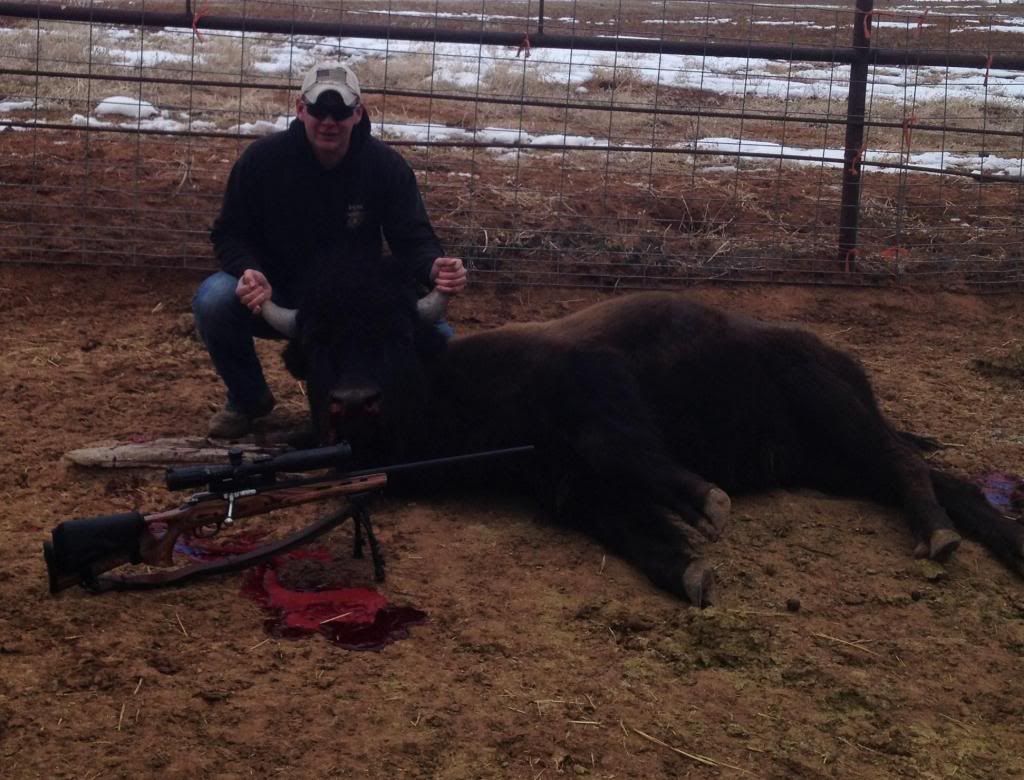 I was with two other guys, and the plan was to get three buffalo... one on Fri, and then the other two on Sat. I was back-up on Fri, I don't know why he brought it... but he was using a Desert Eagle in .50 AE. That bull took 3 shots in the head from that .50 before he got really pissed. I ended up ending it... but it took my third shot to do that. By then, he also had 11 .50 AE rounds in his skull too. That was NOT our intent, and the whole deal was sad. He sure had the will to live, and deserved ALOT more respect than that.
Headshots are the norm, but they have smaller brains than we do... plus almost one inch of bone protecting there brain. If you go for a heart or lung shot, then it can be several hours for them to bleed out.
Anyway, I ended up taking both of the ones on Sat too. I took the first one... one shot, DRT. (that was the first picture in the thread) The other guy I was with brought a .444 lever action with a Walmart special scope. He hadn't shot it in 7 years and decided to check his zero... well first shot downrange, and the erector tube collapses. You couldn't see through the scope. I shot his bull too. One shot, DRT.
They all were young bulls... around 1,000 lbs on the hoof. Here is one hanging, it's almost 500 lbs of hanging weight!!
I used those 180 grain Sierra Game Kings I loaded up last week, I don't know how fast they were going... but I'm guessing around 2700 fps. All the shots were less than 100 yds, about 80 for both bulls on Sat, and 30 yds for the bull on Fri. There is only about a 2" X 2" window in the skull for a brain shot. All my rounds punched cleanly through the skull, leaving a .30 caliber entrance hole, and never exited.
Here's one more picture.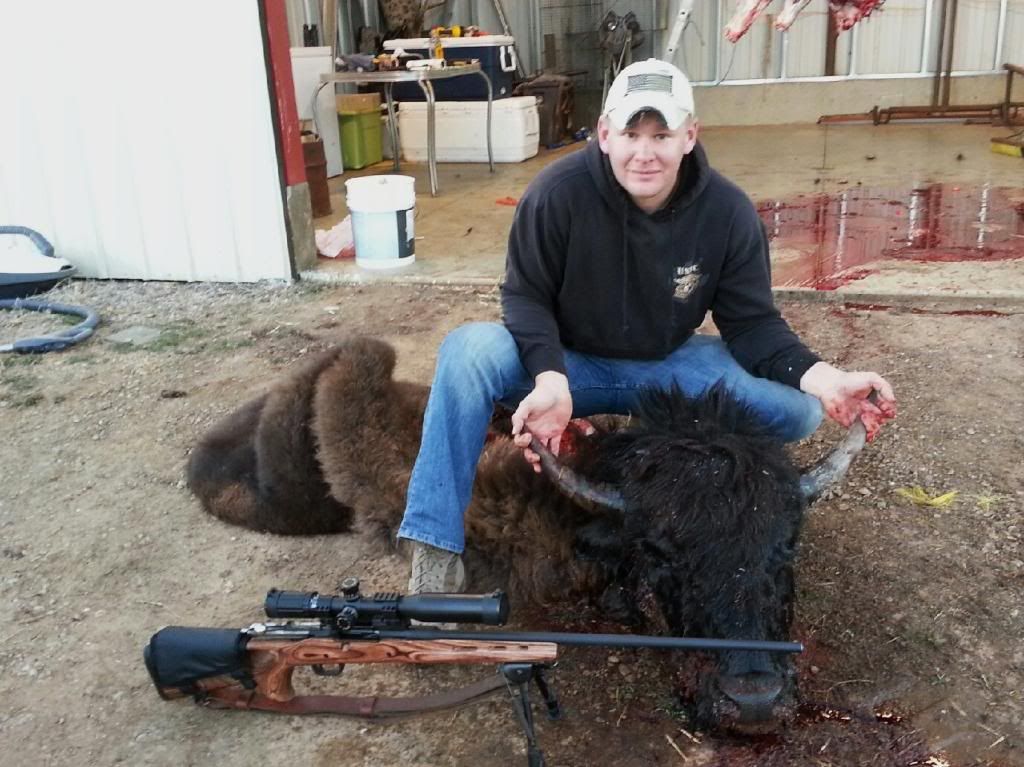 I wasn't able to get any video footage, as it was cold, windy, and I was stalking and shooting pretty much alone. One of these pictures is definitely going into the video I'm cutting together though.
These three bulls are the first animals that this rifle has taken.